David Nixon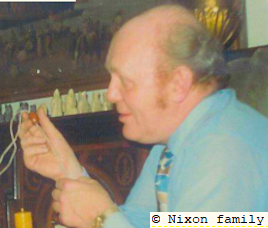 David Nixon (1919-1978) was the best known magician in the UK in the 1960s and 70s and one of the most popular personalities on British televison. Nixon was the inspiration for Steve Short's career as a professional magician.
Nixon's father, a lawyer and magician hobbyist, took David as a child to watch performers such as Nevil Maskelyne and David Devant. By 1938 Nixon joined the Magic Circle and a local band as a double-bass player.
At the start of the war Nixon joined ENSA to entertain the troops and soon after the war he was joined on stage by Norman Wisdom. His big break was in 1954 when he appeared on "What's My Line".
Steve has already told his hero's remarkable life story in a highly acclaimed book, David Nixon: Entertainer with the Magic Touch, that he worked on with Edwin A Dawes. Now be part of the illusion as he brings Nixon's story to life with a fascinating audio-visual presentation that explains how David's childhood fascination with conjuring tricks led to wartime adventures with ENSA, and how he rose from running concert parties to being the nation's best-loved star.
Covering all of the UK including Yorkshire, Lincolnshire, Nottinghamshire, Lancashire and Norfolk
Reviews
entertaining & informative talk
"Just to say thank you for a very entertaining and informative talk on Monday evening our Rotarians enjoyed taking a trip down memory lane with you ! The David Nixon presentation really made us all think back to the time when we actually had entertainers, and not just reality programs on television! We thoroughly enjoyed your talk and your own magic skills really made the evening complete!"
Philip Jeffries - Stowmarket Rotary Club