Reviews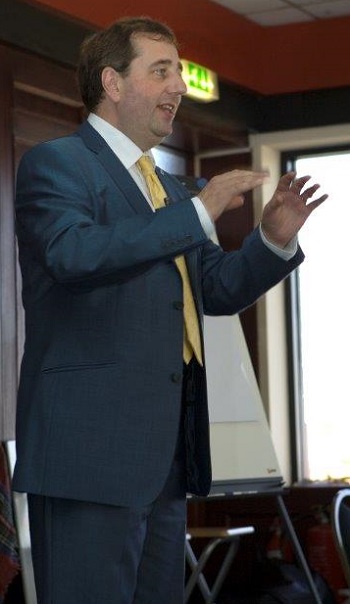 Interesting and entertaining
"Steve Short spoke to Howden U3A on the subject of Houdini in September 2016. The talk was interesting and entertaining and Steve has a clear delivery and friendly persona. He is easy to contact when booking, sticks to the schedule agreed and arrives punctually which is always a great relief to the Speaker Finder. He has a wide repertoire of talks. Thanks Steve "
Angela Howel - Howden U3A
Had the room laughing
The Pelham Suite Grimsby was privileged on Wednesday19th October 2016 to host Steve Short for a lunchtime presentation on, "The Life and Times of Tommy Cooper".
The audience were treated to an excellent, interpretation of the well-loved entertainer's magic tricks and comic routine. Steve's sympathetic and nostalgic format soon had the room laughing and warming to the event. A subtle blend of video, photographs and interaction with the audience plus jokes, provided an interesting perspective of one of the countries favourite magicians.
Steve's dextrous display of conjuring and magic, to demonstrate some of Tommy's best known classic illusions, created a wonderful offering that was truly appreciated by everyone that attended.
I am aware that Steve does a number of other presentations, on past celebrities; it would be wonderful if we could persuade him to return and entertain us again.
Mike Garner - Director, The Pelham Suite
lots of laughter and leaving us in awe of your craft
Good morning Steve - I'd like to thank you for coming along to Doncaster Caledonian Society last week - your presentation on David Nixon was greatly enjoyed by our members. It was fascinating to discover so much unknown information about a man who was such a familiar face and personality to us all - I know the photos brought back lots of memories for so many there and sparked lots of reminiscences around the tables. Your skills as a magician intrigued us all and added another dimension to the presentation. A thoroughly enjoyable evening - thank you!
Vivien M'Itwamwari - President, Doncaster Caledonian Society
Steve brings them both to life
Steve's talk on Morecambe and Wise had an in depth knowledge of their backgrounds and early careers. His posters and bill boards showed their early career, and who they performed with. As their careers progressed, the Morecambe and Wise "Christmas Special" became the most widely watched show each year, with unlikely guests wanting to appear. That sums up the legacy of Morecambe and Wise, and Steve brings them both to life.
Dennis Beevers - Secretary Retford Men's Probus Club
Brilliant presentation
Steve Short's brilliant presentation not only told Maskelyne's story, but interspersed it with some magic effects of his own in an underplayed sense of comedy that was very refreshing.
Steve related the true story of how Jasper Maskelyne (The War Magician) fooled the German Luftwaffe into believing they were bombing Alexandria harbour but were actually bombing a replica harbour created by Maskelyne and his team further down the coast....this and other feats of magical misdirection that helped the allies to shorten the war in North Africa were included in his fascinating talk.
I am sure we will be inviting Steve back in the future to hear his talk on Tommy Cooper and Morecambe & Wise.
Mike Storr - President Rotary Club of Carlton
Left the audience uplifted
Steve Short is a professional magician and raconteur. His subjects for his talk was the life and times of Morecambe and Wise. Right from the beginning he was telling jokes, demonstrating his magic and generally keeping the audience entertained.
He talked us through how they got together, the influences on their act (Abbot and Costello) and their rise to fame - with the inevitable failures on the way.
There was audience participation with impressive magical illusions. The whole event was presented extremely well with Steve measuring the humour, comedy and magic with a deft lightness that left the audience uplifted and singing "Bring me Sunshine" as we left the Festival Hall.
Heather Barratt - West Wolds U3A
Covering all of the UK including Yorkshire, Lincolnshire, Nottinghamshire, Lancashire and Norfolk
Books
Recent books by Steve Short