Harry Houdini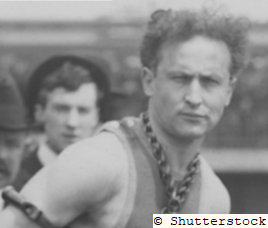 Harry Houdini is probably the world's most famous magician and escapologist. Born Erik Weisz in Budapest in 1874 he moved to The States with his family in 1878 making his debut on the stage at the tender age of 9 years old as a trapeze artist. In this latest of Steve Short's illustrated talks Houdini's life as stunt performer and brilliant illusionist is explored in detail. Learn how "Harry Handcuff Houdini" challenged police forces in the US and Europe to try and keep him under lock and key. Houdini never failed to escape from prison cells, ropes, handcuffs, straitjackets and chains. Many of his acts were death defying and included escaping from a milk churn or being hung upside down in a tank of water.
Steve's illustrated talk recounts many anecdotes and stories about this most interesting of charismatic performers using many period photographs to illustrate the story of Houdini's life. Steve will replicate one or two of Harry Houdini's remarkable escapes.
An external website devoted to Harry Houdini
Covering all of the UK including Lincoln, Harrogate, York, Hull, Sheffield, Beverley, Bridlington, Doncaster, Halifax, Huddersfield, Leeds, Bourne, Brigg, Grantham, Horncastle, Louth, Market Rasen, Spalding in fact all of Yorkshire, Lincolnshire, Nottinghamshire, Lancashire and Norfolk.
Reviews
He made us laugh
Our meeting of the Ruskington Young At Heart Club was very well attended - our speaker/entertainer for the afternoon was Steve Short. He made us laugh; his talk and film show on Life of Houdini with his magic performed was brilliant the afternoon was much enjoyed by all . We will be sure to book Steve again for another of his talks in the future.
Wendy Dann - Chairlady RYHC