Laurel & Hardy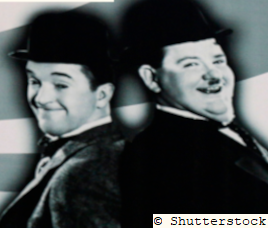 The world's most famous double act, Laurel & Hardy, started during the early Hollywood period of American cinema. Englishman, skinny Stan Laurel (1890 - 1965) and the plump American, Oliver Hardy (1892 - 1957) made up this slapstick duo of comedians.
The two comedians became a team in 1927, wearing their emblematic bow ties and bowler hats. Their films always started with "The Cuckoo Song", "Ku-Ku" or "The Dance of the Cuckoos" which music became as famous as the pair themselves. After 1944 Laurel & Hardy concentrated on stage shows and performances and toured the UK. They made a final film in 1950 called "Atoll K". They became one of the greatest comedy acts of all time.
Steve will entertain you with many interesting and amusing facts about Laurel & Hardy and feature a magic routine they performed in one of their films.
Click here for an external website devoted to Laurel & Hardy
Covering all of the UK including Lincoln, Harrogate, York, Hull, Sheffield, Beverley, Bridlington, Doncaster, Halifax, Huddersfield, Leeds, Bourne, Brigg, Grantham, Horncastle, Louth, Market Rasen, Spalding in fact all of Yorkshire, Lincolnshire, Nottinghamshire, Lancashire and Norfolk.
REVIEWS
Entertaining and enthralling
"Steve's meticulous research, rare archive photos and screen clips gave us a very entertaining and enthralling insight into the lives of Laurel and Hardy, one of the greatest comedy acts of all time. Their brand of comedy has certainly withstood the test of time as decades later it is still hilariously funny and appeals to audiences of all ages."
"Steve is a full time professional speaker, entertainer and magician. As well as bringing his own sense of humour into the presentation he also demonstrates his skill as a magician by performing a magic routine that Stan and Oliver included in one of their many films."
"A truly spellbinding evening presented with professionalism, one not to be missed. Thank you, Steve."
Sue de Courcy-Tyler - Foxholes Community Hall