Norman Wisdom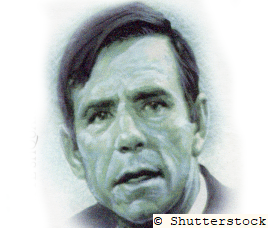 Sir Norman Joseph Wisdom, OBE (1915 - 2010) was raised in extreme poverty and by the age of 11 he ended up in a children's home in Deal from which he ran away. He left school at 13 and was later made homeless after disagreements with his father and apparently walked to Wales to join the Merchant Navy in 1929. He later also worked as a coal miner, waiter and page boy.
Wisdom enlisted into the army as a drummer boy and, in 1930, was posted to Lucknow as a bandsman. The army helped him gain an education, he learned to play the trumpet, the clarinet, to ride horses and become the flyweight boxing champion of the British Army in India.
It was while performing a shadow boxing routine in the army gym, which brought so much amusement to his officers, that Wisdom discovered he had a talent for entertainment. He then began to develop his skills as a musician and stage entertainer and he first patented his persona as "The Successful Failure".
Wisdom's debut as a professional entertainer was working as a straight man to magician, David Nixon, where he adopted his trademark dishevelled look of tweed flat cap with upturned peak, an over-tight suit and a squint tie. The same year Wisdom appeared on TV and was soon commanding enormous audiences.
Steve's talk will describe Norman's rise to fame and fortune and include facts about his appearance on a film, where Norman "helps" a magician on stage!
Covering all of the UK including Lincoln, Harrogate, York, Hull, Sheffield, Beverley, Bridlington, Doncaster, Halifax, Huddersfield, Leeds, Bourne, Brigg, Grantham, Horncastle, Louth, Market Rasen, Spalding in fact all of Yorkshire, Lincolnshire, Nottinghamshire, Lancashire and Norfolk.
REVIEWS
Steve's way of telling the story kept us all enthralled
"The Norman Wisdom talk was enjoyed by young and old. It was a fascinating trip through this much-loved personalities career and brought to life by magic and pictures. Steve's way of telling the story kept us all enthralled, and we would, without a doubt, ask him back. It was a delightful evening that everyone is still talking about."
Gill Hingham - W.I President