Jasper Maskelyne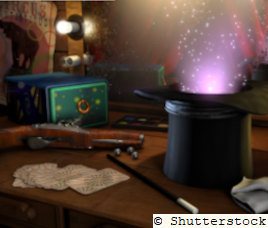 Born of a family of magicians, Jasper Maskelyne (1902 - 1973) was a successful stage magician in the 1930s and 1940s, who, during the last war, was alleged to have been drafted into MI9, a secret department of the British Military Intelligence services specialising in camouflage.
Maskelyne claimed his wartime deceptions and methods of camouflage fooled the enemy and helped Britain to victory in the desert campaign. Said to be the inventor of small secret devices to aid prisoners of war escape from captivity it is often difficult to separate fact from fiction with this enigmatic and somewhat eccentric magician.
A fascinating and illustrated talk by Steve Short will help shed some light on this grand illusionist and his wartime deceptions and will include some magic that Maskelyne performed at this time.
Covering all of the UK including Lincoln, Harrogate, York, Hull, Sheffield, Beverley, Bridlington, Doncaster, Halifax, Huddersfield, Leeds, Bourne, Brigg, Grantham, Horncastle, Louth, Market Rasen, Spalding in fact all of Yorkshire, Lincolnshire, Nottinghamshire, Lancashire and Norfolk.
Reviews
fascinating history with jaw-dropping magic and brilliant humour...
"Just a few words to say how much we enjoyed your Jasper Maskelyne presentation. It combined fascinating history with jaw-dropping magic and brilliant humour. Many people have approached me since you came to our event to say how much they enjoyed the talk and also how professional it was. I have no hesitation in recommending you to other U3A's and will do so at our next speaker seeker regional workshop."
Anne McLeod - U3A