Reviews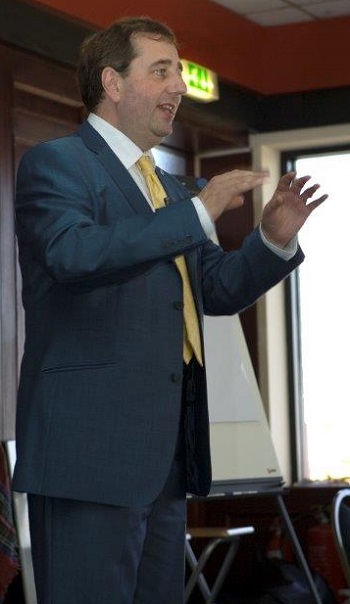 VERY ENJOYABLE AND INTERESTING PRESENTATION
For our October meeting we had our first Zoom presentation.
The subject was "Morecambe and Wise". Steve obviously knew his subject very well as he kept us entertained for almost an hour. Members commented that they watched a very enjoyable and interesting presentation.
Steve has a number of other celebrities for Zoom meetings and we would be happy to use his services again.
Dennis Neighbour - U3A Gravesend and Northfleet
INTERESTING AND INFORMATIVE
Last evening Steve Short gave an interesting and informative lecture on Jasper Maskelyne, a famous magician. His presentation which took us through Jasper's family history and the part he played in the camouflage unit during World War 2 in Egypt. Steve interspersed the presentation with sleight of hand magic which not only amazed but included members of the audience as 'assistants'. A very enjoyable evening.
Chris Fenwick - Hull Literary & Philosophical Society
ENTHUSIASTIC APPRECIATION
Houdini and the world of magic is an interesting subject. Our U3A members were entertained for an hour by a mixture of magic and the Houdini story. There was also entertaining audience participation. At the end of Steve's talk the audience showed their enthusiastic appreciation.
David Riggs - Skegness U3A
ONE OF THE BEST!
Having attended many Zoom events to date, Steve's talk was one of the best. He covered this fascinating period of British magical history with a super selection of slides and video clips. Anecdotes came thick and fast including such memorable performers such as Ali Bongo and many more. David Nixon's most relaxed and entertaining style came across well and I have no hesitation in recommending this journey down memory lane for anyone's Zoom programme.
Dr Bob King - President British Magical Society
HIGHLY RECOMMENDED
We recently hosted Steve Short's David Nixon presentation on Zoom. I received some great comments from members; it was a very interesting and informative talk with many photos and number of short video clips. I would highly recommend this talk to clubs, well presented with some extremely interesting facts about David Nixon.
Barry J Martin - Secretary & Honorary Life Vice President
A TOP CLASS PRESENTATION
Retford Mens Probus Club had a treat in store for them, when Steve Short presented a talk on Tommy Cooper. A top class presentation of magic, and jokes, interlaced with visual computer generated images and photographs were presented in a professional manner, all devoured by an audience captivated throughout. The lively question and answer session at the end, was a true guide that the morning had been well received, and a good time had been had by all. Steve will be returning to Retford Probus Club at a future date to present his Morecambe and Wise talk, which is eagerly anticipated.
George Teasdale - President Elect
IT WAS A FUN EVENING
We had a lovely evening in the company of Steve who is friendly and funny. Our chosen talk, about one of Steve's heroes of magic was Jasper Maskelyne - The War Magician, it was fascinating in its own right. Steve, however, interjected some magic to illustrate points as his talk progressed, and to bring it to a close with laughter. Everyone went home baffled by Steve's marvellous magic, but also with a smile. It was a fun evening.
Angela Richards - Sutton & Barnby Moor WI
Covering all of the UK including Lincoln, Harrogate, York, Hull, Sheffield, Beverley, Bridlington, Doncaster, Halifax, Huddersfield, Leeds, Bourne, Brigg, Grantham, Horncastle, Louth, Market Rasen, Spalding in fact all of Yorkshire, Lincolnshire, Nottinghamshire, Lancashire and Norfolk.
Books
Recent books by Steve Short